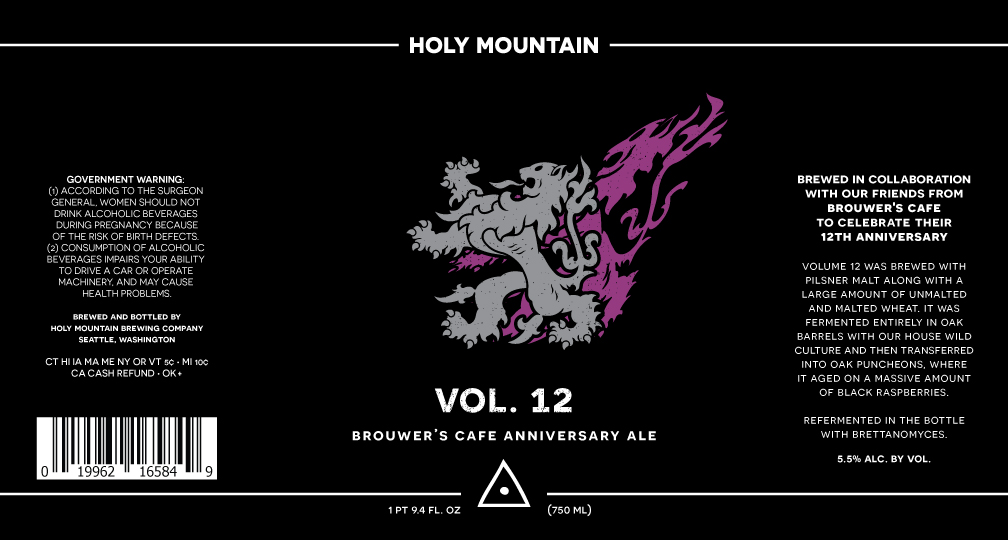 Where were you in 2005?  How long have you been coming here?  We are turning 12 this year!  We invite you to come celebrate our 12th anniversary along with National Orval Day.  Orval happens to be one of our favorite Belgian beers.  We couldn't be more happy.
We brewed a beer with Holy Mountain, the beer that we brewed is a Black Raspberry Sour.  Bottles will be released the morning of the 25th at Bottleworks (1710 N 45th st #3) at 10 am, there will be no draft of the Anniversary on there.  We will open at noon, where draft of our Anniversary beer will be available.  We will also have 8 other Holy Mountain draft beers as well as past anniversary beers and other rare beers from the cellar.  We will also have bottles of Orval for sale.  This will certainly be a day not to miss.  We look forward to celebrating with you.
What follows is the draftlist for the event:
Holy Mountain Volume 12 Golden Sour with Black Raspberries (5.5%)
Holy Mountain Amarillo Extra Pale Ale (5.2%)
Holy Mountain Biere de Garde (7%)
Holy Mountain Crystal Ship Foudre-Aged Saison (5.5%)
Holy Mountain Sauv Blanc Bbl-Aged Bonne Nuit Belgian Strong Ale
Holy Mountain Sunless Year Oak-Fermented Baltic Porter (9.9%)
Holy Mountain The Seer Foudre-Aged Hoppy Brett Saison (5.1%)
Holy Mountain/ Jolly Pumpkin Dust to Dust Hoppy Brett Beer
Holy Mountain/ Monkish Land of Oats and Honey Biere de Miel
It's also National Orval Day! Orval Wants to See How Many Bottles We Can Sell
To Help Them Raise Money for MAP International!
For $1 More You May Keep the Orval Glass
Orval Single (6.9%) 330ml Bottle
Oude Orval Single (6.9%) 330ml Bottle
Take a Look into the Past and Try Previous Brouwer's/Bottleworks Anniversary Beers
Crooked Stave Bottleworks XVII Blond Sour Ale (5%)
Flyer's Brouwer's 8th Anniversary Oak-Aged Scotch (10.9%)
Fremont Old Bridgerider Brouwer's 7th Anniversary Bottle Pour
Lost Abbey Bottleworks XV (12.5%)
Lost Abbey Brouwer's Blend Dark Sour Ale '09 (9.5%)
New Belgium Decennium Dark Sour Ale 2015 (7.6%)
RAM Northgate Bottleworks 16th Bbl-Aged Baltic Porter (9.1%)
The Bruery Bottleworks XII.2 Raspberry Sour 2013 (8%)
Other Unique Selections from our Cellar
Alesmith Vietnamese Speedway Stout (12%)
Bear Republic Tartare Berlinerweisse (4%)
De Proef Sour Barrel #3 (6.2%)
De Proef/Hair of the Dog Flanders Fred (7.5%)
De Struise Pannepeut Old Monk's Ale (10%)
Evil Twin From Amager with Love Imp Stout w/ Blueberries *
Finnriver Sour Plum Cyser (7%)
Firestone Walker Hat Trick Sour Ale (11%)
Firestone Walker PNC Tequila Buckwheat Stout (13.5%)
Fremont Bourbon Barrel-Aged Darkstar: Coffee Edition (14.5%)
Kiuchi Hitachino Nest Commemorative Ale Eisbock (9%)
North Fork Where's OUR Mind Wine Bbl-Aged Sour Blend (6%)
Perennial Artisan Ales Abraxas Imp Stout w/ Cacao, Chiles,Vanilla(10%)
pFriem Scotch Barrel-Aged Imperial Brown Ale (10.5%)