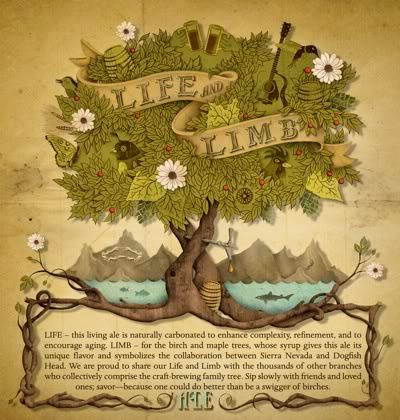 Tuesday, December 29th, we will be tapping both of the Dogfish Head / Sierra Nevada collaborations at 6pm. –
Life & Limb is a collaborative effort, the brainchild of Sierra Nevada Brewing Co. and Dogfish Head Craft Brewery. Life & Limb is a 10% ABV strong, dark beer that defies style characteristics- brewed with pure maple syrup from the Calagione family farm in Massachusetts and estate barley grown on the Grossman "farm" at the brewery in Chico, CA. The beer is alive with yeast-a blend of both breweries' house strains-bottle conditioned for added complexity and shelf life, and naturally carbonated with birch syrup fresh from Alaska.
Limb & Life is a 'small' beer, made from the second runnings of the larger brew, Life & Limb. Limb & Life has a roasted malt flavor reminiscent of dark roasted coffee and toasted bread, combined with a pronounced hoppiness from the use of bold and aromatic American hops.
Limb & Life is an easy drinking 'session' beer – an antidote to the heavy sippers, and a beer that begs for another glass. It is balanced yet flavorful, hoppy yet not without strong malt, and drinkable but still complex.Limb & Life will be an extrememly limited draft-only release.