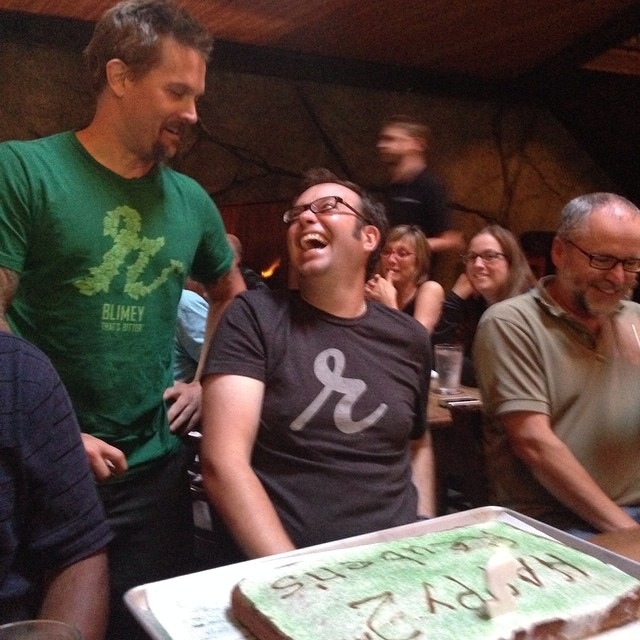 From his humble beginnings as a garage homebrewer, thanks to a thoughtful gift from his son, Reuben, Adam Robbins has always looked to create the best brews he could. After using family, friends, and strangers to test his recipes – and winning a silver medal at a national homebrew competition – he embarked on his own full-time beer journey alongside his wife, Grace, and brother-in-law, Mike.
That was 6 years ago, and by all accounts, he has been incredibly successful. He has gone from a small 7-barrel brewhouse tucked away in Ballard, to two brewhouses, 15-barrel and 30-barrel, capable of upwards of 13,000 gallons of beer a year. That's enough beer to quench the immense thirst of Washington drinkers.
The team at Reuben's has been heavily involved in the community since the inception of the brewery. It has been a point of pride for them to be good stewards and friends of their fellow neighborhood residents. You can frequently find Reuben's beers at almost every beer festival or other community gathering where fine beer is poured.
We've always been huge fans of the work they do in Ballard and in 2015, they created Gobsmacked, an amazing IIPA, for our tenth anniversary. More recently, we have been partnering with them to produce Triumvirate, our double-gold medal winning house beer, for over two years now. We couldn't be happier to have the relationship we do with the team at Reuben's and we are excited to be able to celebrate their 6th Anniversary with them. Come out on August 3rd to congratulate Adam and the rest of the family on 6 years of making bloody good beer.
Draftlist will be close to this:
Triumvirate
Stone the Crows
Dark Strong & Proper with Cherries & Vanilla
Crush Summer hopping
Razzmatazz Raspberry Berliner
Tropical Funk Brett IPA
Pilsner
Anniversary International Juice
Porter
Joe Crikey
Wee Heavy