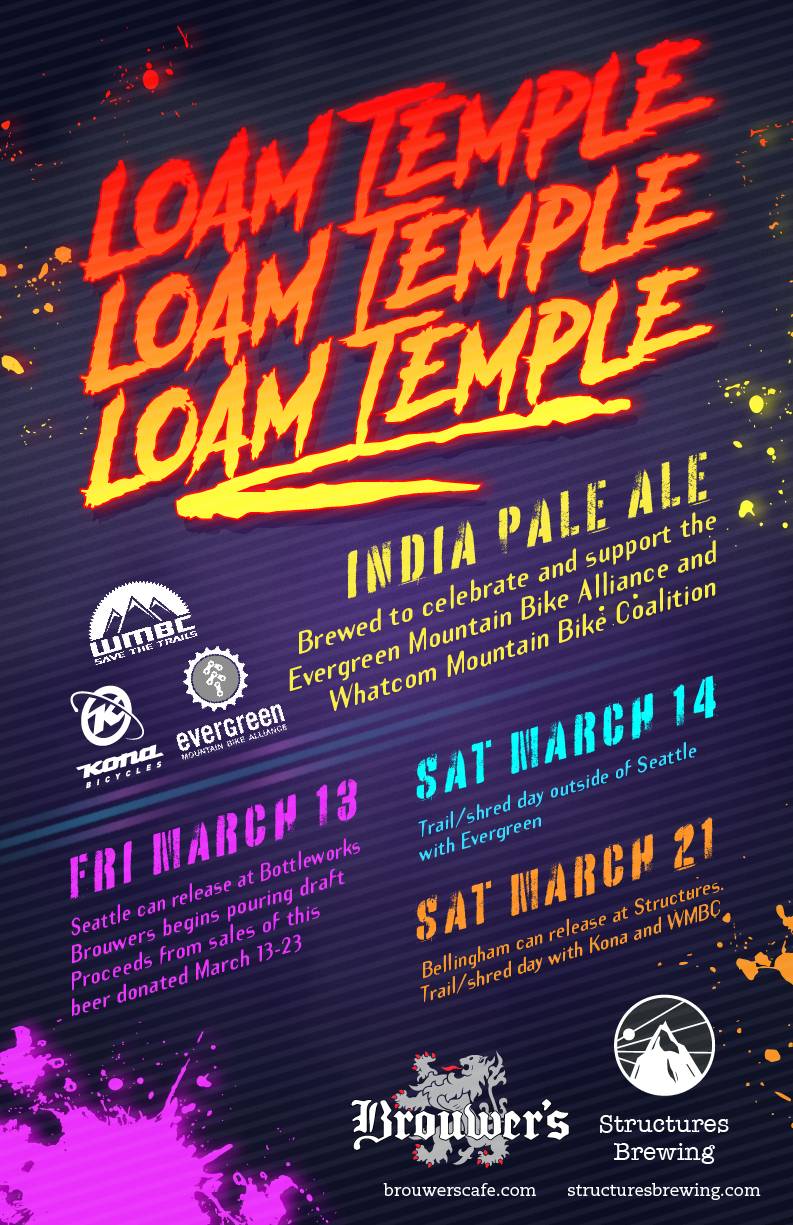 Loam – a fertile soil of clay and sand containing humus.
Temple- a building devoted to worship. aka a place where people worship
Last year it was "Dirt Church", this year "Loam Temple", but had we known how wet this winter would be, we might have dubbed it "Mud Shrine"! Why the nods to religion you ask? Well, we all worship something (to some degree or another!), and for some of us it's riding the dirt. I said just the other day "I don't know where I'd be without mountain biking", and the same holds true for the craft beer industry. Where these two communities intersect is where I live, breathe, drink and celebrate, and I've got lots of fantastic company!
Loam Temple is a way to say thanks, bring two passions together, and honor the folks that build and maintain mountain bike trails here in Washington (Evergreen Mountain Bike Alliance and WMBC), as well as make awesome beer (Structures Brewing).
How can you get involved?
Seattle Release/Events:
Friday, March 13th Bottleworks, located in Wallingford will be selling 4 packs to go. $2 from every 4 pack will be donated to Evergreen, they will also donate a $1 a pint. From March 13- March 23 Brouwer's will donate the proceeds from all pint sales of Loam Church to Evergreen, so stop in for a pint or 3.
Saturday, March 14—There will be a trial dig/shred day in the I-90 corridor, probably in the Raging River trail system. Details are still being worked out. The plan is to dig for a bit, then get some shredding in. Stay tuned for more details. Here and on the Evergreen site.
Bellingham Release/
Saturday, March 21st Sturctures will release cans at the brewery when they open at noon and donated a portion of the sales to WMBC. Kona and WMBC will host a trail day on Galby. More Details to come. We will all meet up at the brewery around 4 pm to have a few pints.