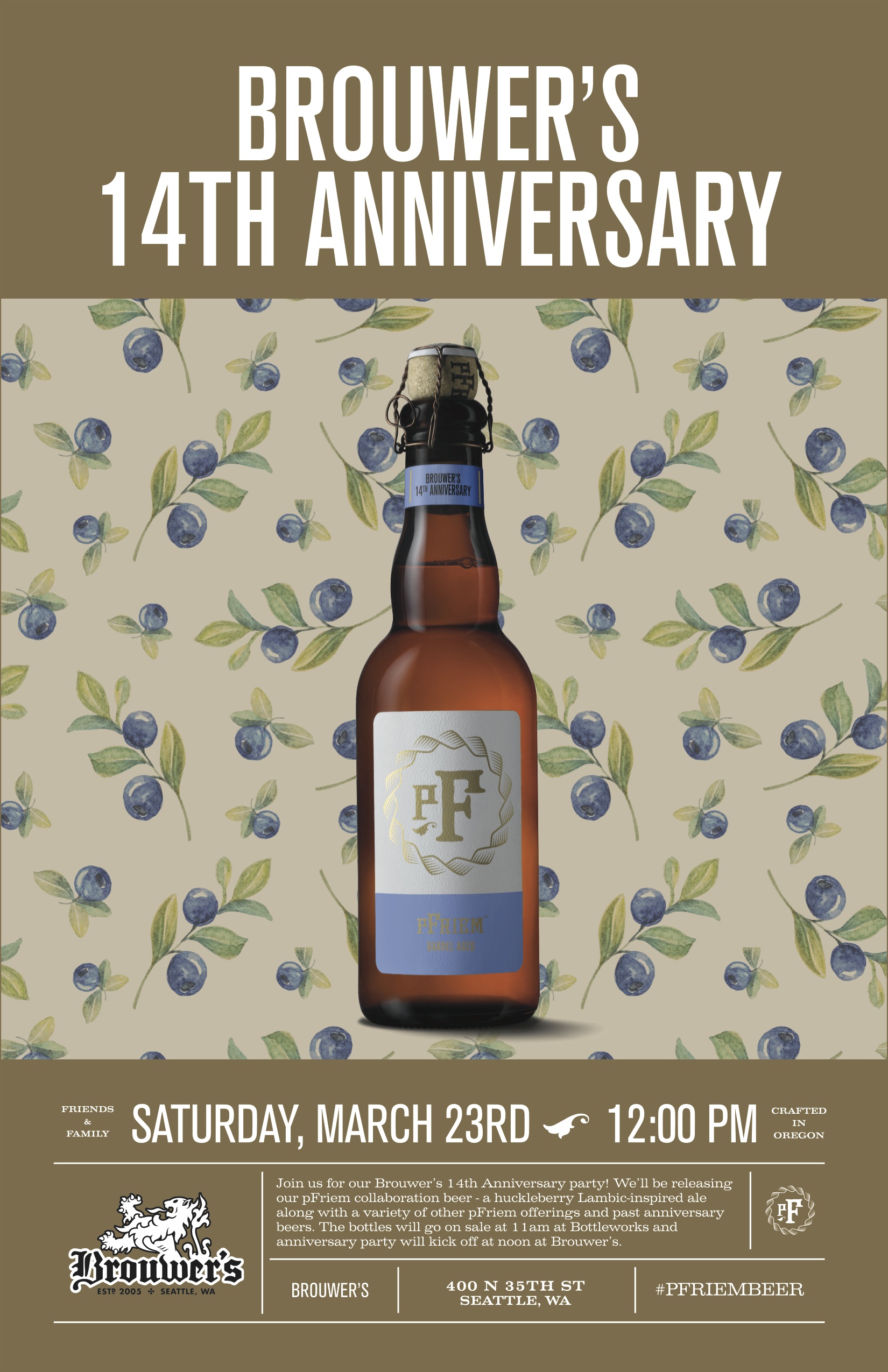 Event Details:
Saturday, March 23rd @ 11am Bottles go on sale at Bottleworks.
Saturday, March 23rd @12pm The Party starts at Brouwer's look for past Anniversary beers and Orval to be pouring!
The idea of a partnership between Brouwer's and pFriem has been a topic of conversation since Josh pFriem opened his doors six years ago. While both parties knew it would be awhile before the fledgling brewery would be able to make that a reality, the conversation never ceased. Over the years, on the Washington and Oregon bike trails, Josh and Nat kept the idea alive. When it became time in June of 2017, a small contingency from Brouwer's made the journey to Hood River to discuss a possible 13th anniversary brew for the restaurant.
In sitting down with Josh and Gavin, ideas began to be thrown out in the open. pFriem already had a list of wonderful lambic-inspired selections that would've been perfect for a custom blending project. That whole time talking through it, everyone knew there was something out there that begged the question that there was a fruit that needed to be worked with. Nat, from Brouwer's, was the first to ask what that fruit was. Gavin mentioned that he'd always wanted to work with huckleberries, but that it wouldn't be an option since there would be no way to source that many foraged berries during the upcoming harvest and having it in time for March. Neither side willing to back down from a new challenge, the decision was quickly made to schedule it for Brouwer's 14th anniversary and see how many huckleberries we could get our hands on in the meantime. It soon became time to take the hastily scribbled line, "Light sour base w/ huckleberries aged in neutral or white wine bbls," and turn it into something tangible and delicious.
Like many of the fruited pFriem brews, this one starts out as a lambic-inspired base beer that was brewed in January of 2018 and spent 8 months in former white wine barrels to give the beer a nice, soft, lightly tart profile. The barrels were then blended together and racked back into those barrels on top of a ton of huckleberries; there is one pound of huckleberries for every gallon of beer in the barrel. This brew will also serve as a milestone for pFriem, as it is the first time they've aged beer on the fruit in the barrels the base beer was aged in, following a long tradition of making fruited sours in the old country.
While we eagerly wait for the experiment to bear fruit, the jammy nose of the huckleberries juxtaposed with their sharp tartness has given everyone involved the impression that we are in for something truly special: a uniquely northwest ale made by a wonderful Oregon brewery for a Washington craft beer stalwart using ingredients from both – a true Cascadian partnership.
Tasting notes:
A beautiful hue of reddish violet crowned with slight pink foam; deceiving notes of jammy berry pie and citrus lead into crisp acidity, light funk, a bit of berry, and minor notes of oak. Finishes off-dry, tart, and clean.