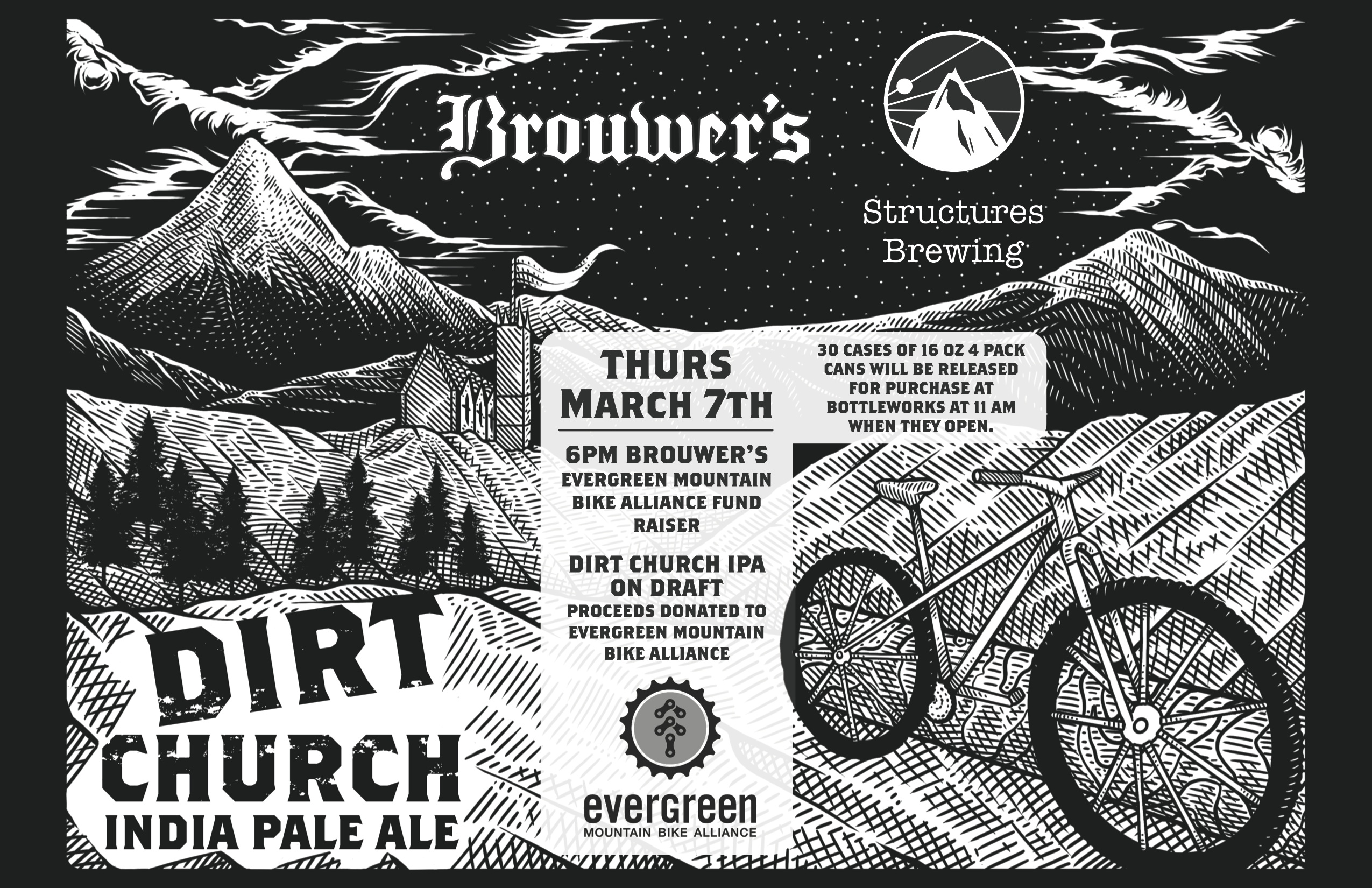 Details about this release/fundraiser–
March 7th @ 11 am 4 pack cans will go on sale at Bottleworks $2 from the sale of every 4 pack will be donated directly to Evergreen
March 7th @ 6pm Dirt Church IPA draft release here at Brouwer's Cafe where all the proceeds from the draft sales will be donated directly to Evergreen
We are hoping between the two we will be able to raise over $2000.
Structures will hosting a similar event in Bellingham the following week.

Here's a little blurb about how this beer came about:
Everyone has something they are passionate about, maybe even worship, and for us that's Dirt! Those beautiful and challenging ribbons of dirt we call trails, that take us deep into the forest, high up into the mountains, and sometimes to the grandest of vistas. Dirt brings us together and lets us be alone, makes us work hard for even the smallest thrills, brings us joy yet dishes out its certain share of pain! Yet we go back to it over and over again, seeking that connection to the ground, the perfect texture, the fluidity of moving over and through it. The dirt, the trails, they are part of us now!
This is how the idea of Dirt Church IPA was born. Most of us can't be there to build and maintain the amazing network of trails we have here in the Pacific Northwest, but we can certainly help support the awesome and hardworking people who do. The Evergreen Mountain Bike Alliance and Whatcom Mountain Bike Coalition (WMBC) are on the ground (and in the dirt!), making sure our favorite trail systems stay in great condition.
So we are pleased to announce that Brouwers Café and Bottleworks, along with Structures Brewing, will be collaborating on a special Dirt Church fundraising event series. We will host limited beer release parties in Seattle at Brouwer's for Evergreen, and in Bellingham at Structures for WMBC, with a portion of the proceeds from cans and draft being donated directly to these amazing MTB trail groups. Look for the release to be in March of 2019.
Nat Pellman at Brouwer's Café in Seattle is passionate about Mountain Biking and Beer. He is friends with James and Max at Structures, and quite enjoys collaborating with them on special beer releases, as well as having a cold one (or two!) at their Brewery after a good ride in Bellingham.